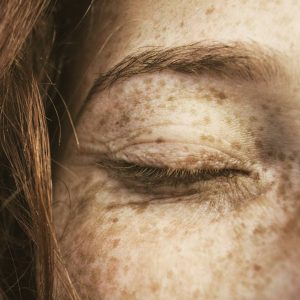 Cursos Intensivos de Formacion Internacional de Instructoras/Profesoras de 
Yoga Nidra Mindfulness en 
Centro Darshan Barcelona
En 2 Opciones de Fechas/Modalidades: Presencial o bien

OnLine
(24.04.2022dd)++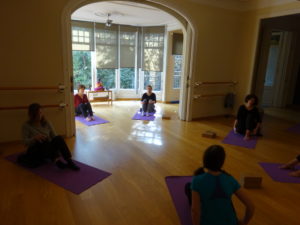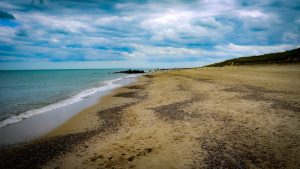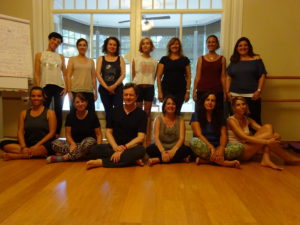 Fotografía del año 2019, de uno de los Cursos de Formación Presenciales
( Actualmente los grupos son aún más Reducidos tanto Online como Presencial:  SÓLO 10 PERSONAS ).
---
 ¿Eres Terapeuta  (Médica/o,  Profesor/a,  Psicóloga,  Enfermero/a,  Fisioterapeuta, Osteópata,  Quiromasajista,  Quiropraxia, Homeópata,  Terapeuta #Reiki,  Gestalt… )  o Profesora de  Yoga  de CUALQUIER Estilo,  Pilates, Danza  o  Tai-Chí y ….
…te gustaría

AMPLIAR tu oferta de Actividades

para tus CLIENTAS/Alumnas Actuales o NUEVAS??
Eres Fotógrafa, Pintora, Arquitecta, Diseñadora de Interiorses, Artista y te gustaría aprender una técnica que ayuda a conectar con tu CREATIVIDAD??
¿Te gustaría aprenderlo también para tu USO PERSONAL, también para mejorar tu

Comunicación

con los demás y contigo misma Y aprender a entrar en Estado ALFA de Relajacion CONSCIENTE??   
(No se requiere experiencia)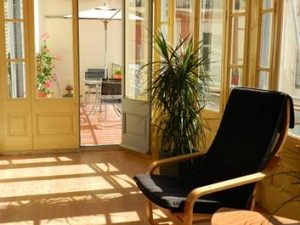 Diversas Salas  Amplias, Luminosas y Céntricas  en Barcelona.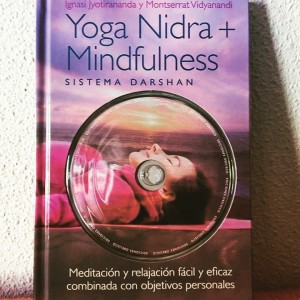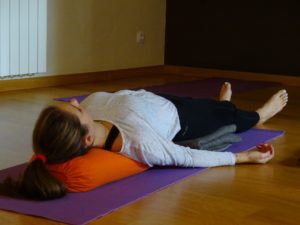 ¿Quieres  aprender una de las Técnicas de Meditación Guiada, Relajación y Visualización Creativa más EFECTIVAS  Y MÁS DEMANDADAS por las Alumnas o Clientas,  o  también para tu Uso Personal?
Título Certificado de 40 horas  CENTRO DE TERAPIAS DARSHAN (22 año de Experiencia)  de Instructor/a de YOGA NIDRA MINDFULNESS.      Título Certificado de Meditación Guiada y Relajación, (si apruebas la Prueba Final de Curso) **        (Atención: no es un título de "yoga físico" ?!?!) 
---
NOVEDAD:  Formación

Número 23: 

esta vez puedes apuntarte en   2   OPCIONES DE FECHAS/HORARIOS: 
---
* OPCION   A   ONLINE:    5  SÁBADOS   mañanas

,   

entre  MAYO  Y JUNIO de 2022.   Horario

ONLINE

: de 10:30 a 14:30 (Hora C.E.T de Barcelona).   
Comenzamos el SÁBADO 14 DE MAYO. 
* OPCION   B   PRESENCIAL:   1 SEMANA INTENSIVA EN AGOSTO: Desde el Lunes dia 1 al Sábado dia 7.  Horario

PRESENCIAL

: de 17:00 a 20:45.
*******************************************************************
---

GRUPOS REDUCIDOS:  Sólo 10 plazas por Curso, por Orden de Inscripción y Admisión. 
Se siguen TODAS las Normas de Salud que correspondan.  La Sala es espaciosa equipada con mesas y sillas y está perfectamente ventilada.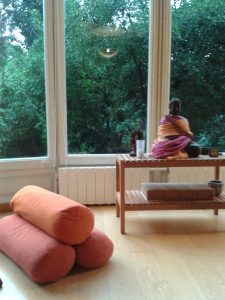 ¿El Curso es

Presencial

o bien es

OnLine

?
Actualmente ofrecemos las 2 Opciones.
Modo Presencial: 

 Lo realizamos en Barcelona en una Sala de FORMACIÓN CÉNTRICA, LUMINOSA Y BIEN VENTILADA.   * Si alguno de los intensivos no se puede realizar Presencial por NORMAS DE SALUD de las Administraciones Públicas (Restricciones de Movilidad),  lo sustituimos  por la Versión OnLine:   mediante vídeos diferidos o en DIRECTO  (GoogleMeet) y documentos del Curso.  Actualmente el Curso lo realizamos en una  Sala de Formación con mesas y sillas, para evitar el uso de materiales de práctica.
ATENCIÓN;  uno de los Intensivos, el Intensivo en el cual explicamos las Posturas de Práctica, lo realizamos ONLINE, para que puedas probar cómodamente en tu domicilio las diversas posturas y Ajustes Anatómicos óptimos.
Modo Online: 

 Lo realizamos mediante Video EN DIRECTO con Googlemeet.  Se logra un ambiente de Sesión de Grupo muy interactivo.   Se envia la Documentación del Curso previamente por mail.
Fechas y Horarios de la Formación INTERNACIONAL  de Yoga Nidra Mindfulness PRESENCIAL o bien ONLINE:

  si nos envias el Formulario (más abajo) te enviamos toda la Información, con Fechas y Horarios de las   2  OPCIONES.
---

El Yoga Nidra inicial lo aprendimos DIRECTAMENTE, HACE 22 AÑOS,  en la India, en la Bihar School of Yoga (Munger, India)  y somos antiguos discípulos directos Swami Satyananda, al que tuvimos la gran suerte de conocer personalmente (en el ashram de Rikhia, Deoghar, India). Nos estuvimos formando en Yoga y en Yoga Nidra durante 6 meses a tiempo completo en India y Nepal.
Durante estos 22 años hemos seguido practicando y perfeccionando el Yoga Nidra Mindfulness y, desde el año 2012 ya hemos realizado 22 Formaciones de Instructoras/res.   
Nuestro Sistema proviene del "yoga nidra inicial" y, al mismo tiempo tiene un enfoque Occidental y Pragmático:  es Mindfulness y aplicamos técnicas de Programación Neuro-Lingüística para optimizar los Resultados.
---
Algunas VENTAJAS DIFERENCIALES del

Sistema #YogaNidraMindfulness

(#SistemaDarshan) respecto a otros Sistemas de Meditación/Relajación:
1.- Se utilizan varias duraciones de Yoga Nidra Mindfulness Darshan: corta, media o larga, lo cual es muy útil para combinarlo con otras técnicas. Es una práctica ideal para AMPLIAR TU OFERTA DE ACTIVIDADES.   

2.-La versión larga es casi IDENTICA en estructura a la que aprendimos DIRECTAMENTE en la India, en el ashram de Swami Satyananda (Monghyr, Estado de Bihar, India).  En Darshan tenemos experiencia DIRECTA del yoga nidra inicial de Swami Satyananda, principal compilador del yoga nidra (meditación guiada y sueño consciente). 

3.- Se combina el Yoga Nidra  Mindfulness, Sistema Darshan, con el Lenguaje Indirecto de PNL (o "LenguajeINDIRECTOalfa") lo cual es ideal para acceder eficazmente al Subconsciente.     

4.- La práctica está diseñada TODA con "Lenguaje ALFA indirecto" dirigido al Subconsciente:  por  este motivo es tan efectiva, ya que el Subconsciente es el que determina en gran parte nuestra Experiencia de la Vida.  (La parte consciente se considera que es una mínima parte de la Consciencia Global).  

5.- También hay varias personas que lo quieren para USO PERSONAL, ya que es una forma muy eficaz de introducirse en la MEDITACIÓN: es más fácil de practicar ya que es una Meditación GUIADA con  #LenguajeALFAindirecto.
---

Si quieres más Información del Curso (Incluyendo FECHAS Y HORARIOS), sin compromiso de apuntarte,  puedes rellenar este formulario y enviarlo: 
---
INVERSIÓN EN EL CURSO:  450 €   
(que se puede abonar en  2 PLAZOS DE 225 €:  el primer plazo para reservar plaza y el segundo plazo  10  DÍAS  ANTES DEL CURSO).   HAY VARIAS OFERTAS DE PRECIO CON DESCUENTO >>>> >>>>
>>>>  OFERTA ESPECIAL si te apuntas  …  
… … 

ANTES del   MIÉRCOLES  25  DE MAYO

>>>>
MODALIDAD PRESENCIAL = 390 € 

  (que se puede abonar en 1 plazo o en 2 plazos de 195 euros: el primer plazo es para reservar plaza y el segundo se abona, como máximo,  10 días antes del Inicio del Curso de Formación.
MODALIDAD ONLINE =   350 €

   (que se puede abonar en 1 plazo o en 2 plazos de 175 euros: el primer plazo es para reservar plaza y el segundo se abona, como máximo,  10 días antes del Inicio del Curso de Formación.
---

---
Formacion Certificada Internacional de Instructoras/Profesoras de 
Yoga Nidra Mindfulness Presencial o bien OnLine.
****************************************************************************
Dirección de los Cursos:
Ignasi Jyotirananda, Certificado en Yoga en la India por la Bihar School of Yoga con práctica de hatha yoga, raja yoga, karma yoga, bakhti yoga, yoga nidra y meditación yoga.
Ingeniero I.Q.S., practicante de prácticas psicofísicas (Yoga-Pilates #AlineacionPOSTURAL DARSHAN),  meditativas y de  Yoga Nidra Mindfulness desde hace más de 24 años.
Antiguo discípulo DIRECTO del Ashram de Swami Satyananda (Bihar School of Yoga, Monghyr, Estado de Bihar, India).
Profesor  por la Asociación Internacional de Profesores Yoga Sananda.
Curso de yoga y yoga nidra en Nepal con Alakh Shakti, en la línea Satyananda.
Practitioner en Programación Neurolingüística por el Institut Gestalt de Barcelona.
Practicante de varios sistemas psico-físicos/meditativos en Barcelona, Vigo, Finlandia, India y Nepal, desde 1976.
****************************************************************************
CENTRO DARSHAN, Cursos Intensivos de Formación en MODO PRESENCIAL Y EN MODO ONLINE (#OmmmLine) #SistemaDARSHAN, #BhaktiOCCIDENTAL
Modo PRESENCIAL

(uno de los Intensivos lo realizamos ONLINE en DIRECTO y también la Prueba Final)
Si quieres más Información del Curso (Incluyendo FECHAS Y HORARIOS), sin compromiso de apuntarte,  puedes rellenar  el FORMULARIO MÁS ARRIBA escribiendo tu Nombre, Email (escrito con precisión) y Tema de tu Consulta, Gracias y Hasta pronto!! 
Nota: los grupos son reducidos y cerrados. Hemos REDUCIDO aún más el tamaño de los Grupos, para respetar las DISTANCIAS DE SALUD Y SEGURIDAD. (Presencial: Además la Sala es ESPACIOSA y está BIEN VENTILADA, en el Modo PRESENCIAL). En el Modo Online, los Grupos también son REDUCIDOS, para optimizar la Calidad del Curso de Formación.
El máximo de asistentes por Curso es de  10  plazas.
Cuando se llega a 10 participantes, el Grupo se cierra y NO se admiten más personas participantes.  Nos reservamos el Derecho de Admisión, especialmente para mantener los Grupos Reducidos.
Barcelona, en diversas Salas céntricas en Barcelona (cerca de Passeig de Gràcia/Arago)   Y también realizamos Curso de Formación de Instructoras OnLine.   (#OmmmLine  🙂  🙂  ) 
© 2004-2022  Centre de TERAPIES DARSHAN, Barcelona.