Are you a Therapist or Yoga, Pilates or Tai-Chí Teacher and would you like to EXTEND your offer of Activities for your Current or NEW Students?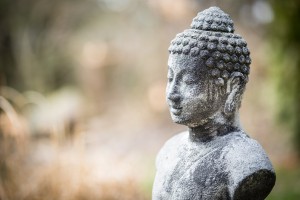 Do you realize that in the Therapies and Yoga Sector there is a Great Competition and a large number of people who want to be able to live from it and it is almost impossible to differentiate themselves and live with dignity from your profession?
La clave para sobrevivir en estos Sectores es DIFERENCIARSE con técnicas MUY EFICACES Y DEMANDAS y que pocas Terapeutas, Profesoras o Centros ofrecen: 
Fórmate como Instructora/Instructor de Yoga Nidra Mindfulness  (Cursos con Plazas muy limitadas) !!
Otra Ventaja es que una vez lo has aprendido puedes IMPARTIRLO de forma Individual o a Grupos de forma On-Line  (#OmmLine) o de forma  Presencial.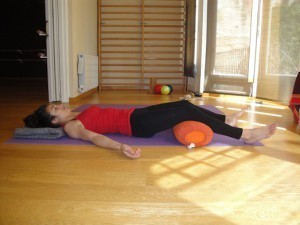 ¿Quieres  aprender una de las Técnicas de Meditación Guiada, Relajación y Visualización Creativa más efectivas Y más DEMANDADAS por las Alumnas, o  también para tu Uso Personal?
Título Certificado de 40 horas CENTRO DARSHAN de Instructor/a de YOGA NIDRA MINDFULNESS 
También para USO PERSONAL, como Meditación Guiada y Mindfulness 

+Relajación  +Visualización Creativa:  NO SE REQUIERE EXPERIENCIA PREVIA.
---
Otro Dato INTERESANTE es que al Curso no sólo vienen Profesoras de Yoga:   

vienen personas de

múltiples Sectores: 
Médicos (anestesistas, de familia, traumatólogos)

Terapeutas "Energéticas" (Meditación, Reiki) 

Psicólogos y Psiquiatras

Fisioterapeutas

Terapeutas "Físicas" (Quiromasaje, Osteopatia, Quiropraxia)

Profesoras de Pilates y Movimiento Consciente

Profesoras de Yoga y Meditación

Profesoras de Pilates o Tai-Chí

Profesoras de Universidad y de Instituto

Y varias Personas se apuntan para aprenderlo para su Uso Personal, como técnica MUY EFICAZ de Meditación / Mindfulness /Relajación.

---
NOVEDAD:  20 FORMACIÓN !   
Nos encanta el Nidra Mindfulness:  Actualmente ya estamos finalizando la Formación Número 19 !
Now, with great enthusiasm, we open the Registration of the next Training NUMBER 20!
en  3  OPCIONES DE FECHAS: 
1 Semana Intensiva en Agosto, o

bien 6 Miércoles en Otoño,
o bien 6 Sábados en Otoño: 
** OPCION C:    Curso Intensivo de 1 Semana en Agosto:     

Desde el LUNES  3  de Agosto al SÁBADO  8 de Agosto.   

Comenzamos el  Lunes  3 de AGOSTO de 2020.

      Horario por las TARDES: de 17:00 a 20:45,   (ideal para los que venís de fuera de Barcelona).
* OPCION D:   5  Miércoles mañanas 

(NO SEGUIDOS !),   entre OCTUBRE Y DICIEMBRE  de 2020:

   Comenzamos el  Miércoles  21  de OCTUBRE  de 2020.  

Horario: de 10:30 a 14:30,  (ideal para los que venís de fuera de Barcelona).
** OPCION F:    5  Sábados mañanas: 

(NO  SEGUIDOS !),    entre  OCTUBRE  Y  DICIEMBRE:   

Comenzamos el Sábado  17  de OCTUBRE  de 2020.

   Horario: de 10:30 a 14:30,  (ideal para los que venís de fuera de Barcelona).
*******************************************************************
REDUCED GROUPS: Only 16 places per Course! There are already vary people signed up for Option C of the Intensive Course in August!
---



We learned the initial Yoga Nidra directly, 22 YEARS AGO, in India, at the Bihar School of Yoga (Munger, India) and we are former direct disciples of Swami Satyananda, whom we were very fortunate to meet directly.
El Yoga Nidra Mindfulness DARSHAN nos encanta y nos encanta compartirlo con nuestras/os alumnas/os y ya hemos realizado 19  FORMACIONES DE NIDRA MINDFULNESS, tanto para INSTRUCTORES/AS como para USO PERSONAL. 
Aunque el "yoga nidra" lo aprendimos en la India y seguimos fielmente gran parte de las enseñanzas de Swami Satyananda, nuestro ENFOQUE es OCCIDENTAL, PRÁGMATICO y abierto a todas las creencias.
---
---
Los efectos del Yoga Nidra Mindfulness son SORPRENDENTES desde los primeros días, para la mayoría de las personas que lo prueban. _______  Nuestro Sistema de Nidra DETIENE eficazmente durante 15 a 30 minutos el  "Pensamiento racional habitual", que suele ser cíclico, repetitivo y asociado a emociones negativas y a Generación de Estrés.   Durante 15 a 30 minutos, la persona que lo practica experimenta una LIBERACIÓN y una PROFUNDA Y COMPLETA RELAJACIÓN. 
Si lo pruebas es probable que te des cuenta que experimentas fácilmente un "Estado Modificado de Conciencia",  en el fondo, es un tipo de hipnosis suave #ProfundamenteLiberador a.
---
Es compatible con otras técnicas psico-físicas:    Yoga DE CUALQUIER ESTILO, Danza, Tai-Chí,  Baile, Pilates, Alexander, TERAPIAS,  Reiki, Quiromasaje, Hipnosis,  PNL,  Gestalt,  Fisioterapia, Psicología, Psicoterapia, etc. ….     Y es ideal para combinarlo, normalmente al final de la sesión, con estas técnicas, en más o en menos duración (lo cual también lo explicamos y APRENDEMOS en el Curso de Formación).
---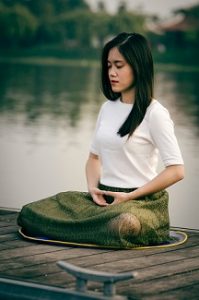 BENEFICIOS del Yoga Nidra Mindfulness SISTEMA DARSHAN:
Es una de las técnicas de Meditación / Mindfulness / Relajación más demandas por las/os alumnas/os.  Te permite AMPLIAR TU OFERTA de actividades.  Para ofrecerlo sólo o junto con otras actividades.  Es también IDEAL PARA DIFERENCIARTE respecto a los Múltipres TERAPEUTAS, PROFESORAS Y CENTROS.

Puede utilizarse para entrar en estados de relajación profundos y completos (Mayoritariamente "Estado Alfa").  Desde los primeros días que practicas el Yoga Nidra Darshan NOTAS LOS EFECTOS y son realmente SORPRENDENTES a todo nivel. 

Se puede combinar con

VISUALIZACIÓN CREATIVA

, metáforas, que ayudan a la persona en diversos aspectos de la Vida. Fomentan la paz interior, la creatividad, la conexión con la intuición e incluso la Instalación de Afirmaciones Personales (diseñadas de forma secreta por la persona practicante, NUNCA por parte del profesor/a).
---
Algunas

VENTAJAS DIFERENCIALES

 del Sistema Yoga Nidra Mindfulness (#SistemaDarshan) respecto a otros Sistemas de yoga nidra:
1.- Se utilizan varias duraciones de yoga nidra Darshan: corta, media o larga, lo cual es muy util para combinarlo con otras técnicas.   La versión larga es casi IDENTICA en estructura a la que aprendimos DIRECTAMENTE en la India, en el ashram de Swami Satyananda (Monghyr, Estado de Bihar, India).

2.- Se combina el yoga nidra  Mindfulness Darshan con el Lenguaje Indirecto de PNL (o "LENGUAJE ALFA") lo cual es ideal para acceder eficazmente al Subconsciente.     

3.-  Toda la práctica es MINDFULNESS o "Atención Plena". En nuestro Sistema de Nidra NO hay órdenes directas, a diferencia de otros sistemas en los que sí las hay  (por ejemplo, nunca se dice que relajes nada, ya que este efecto se logra por medios más EFICACES). 

4.-  El diseño de Afirmaciones personales se realiza con técnicas de PNL (Programación Neuro-Lingüística).  La Afirmación es secreta de la persona practicante:  nunca la dice el instructor o profesor de nidra!  Y NO consiste en la SIMPLE REPETICIÓN DE UNA FRASE.   
---

Si quieres más Información, sin compromiso de apuntarte,   Puedes rellenar este formulario y enviarlo: 
---

Algunas OPINIONES REALES de alumnos/as que han dejado comentarios en GOOGLE MAPS:
Este centro es fantástico: los profesores son profesionales con muchos años de experiencia, las salas son amplias y luminosas con vistas a un hermoso jardín, ¡un oasis de calma y relax dentro de la ciudad!… pero lo mejor de todo es la paz mental después de asistir a sus clases, la sesión final de Yoga Nidra Mindfulness me ayuda a mantener mi mente en calma y equilibrio. Las clases de Yoga-Pilates tonifican y ayudan a escuchar y conocer mi cuerpo. Sin duda ¡100% recomendable!
Soy instructora de yoga y acabo de finalizar el curso de Yoga Nidra Mindfulness NIVEL  I y estoy encantada pués es una muy buena herramienta para integrar en mis clases y ofrecer a mis alumnos. Los efectos de está técnica son sorprendentes aportando bienestar físico y mental. Espero poder realizar el NIVEL  II. Ignasi y Montse unos cracks. Moltes grácies a tots dos!?
---
---
INVERSIÓN EN EL CURSO:  450 €
Si te apuntas  ANTES del  LUNES 25 DE MAYO
tienes un PRECIO ESPECIAL DE   390 €   
(que se puede abonar en 2 PLAZOS DE 195€: el primer plazo para reservar plaza y el segundo plazo 1 SEMANA ANTES DEL CURSO). 
Precio para alumnas/os ACTUALES de DARSHAN = 340 €,  se puede abonar en 2 plazos,  SIEMPRE QUE QUEDEN PLAZAS.
Precio para repetidoras/res del Curso= 200€.  Se puede repetir un INTENSIVO SUELTO= 45€
---
Actualmente estamos en varias Salas en Barcelona, Gracia, cerca de Sant Gervasi, Gala Placidia, Lesseps, Plaza Molina y Vallcarca. Barcelona.
Si quieres más Información, sin compromiso de apuntarte,   Puedes rellenar este formulario y enviarlo: 
---


      
---
---
Formacion Certificada Instructor Yoga Nidra Mindfulness Barcelona, Cursos Intensivos de Formación
Nota: los grupos son reducidos y cerrados. 
El máximo de asistentes por Curso es de 16 + 3 plazas de "recuperación" (para personas que hayan perdido algun intensivo en Cursos anteriores, siempre avisando previamente).  
Cuando se llega a 16 participantes, el Grupo se cierra y NO se admiten más personas participantes.
Barcelona, Gracia-Sant Gervasi, (cerca Plaza Gala Placidia y Plaza Molina)
© 2004-2020  Centre de TERAPIES DARSHAN, Barcelona.